Escape the Netherworld
Click Here to navigate to the press.


Designs: 3
Last update: 10-04-2021 20:52:20
Description:
Address: 2076 W Park Pl. Blvd, Stone Mountain, GA 30087, USA
This machine moved in late 2017 from Netherworld Haunted House s former location to its new location in Stone Mountain. It is now located in the lobby of Escape the Netherworld, an escape room business that s open year round in the building where Netherworld Haunted House is located each late September through Halloween.
Escape the Netherworld is open to the public on the weekends in the evening and Saturday afternoon. Check the website www.EscapetheNetherworld.com for details on hours. Ticket purchases are not required to come into the lobby on the main level and collect a penny. Great monster images....a perfect way to celebrate Halloween!
During the haunted house season, Oct until early Nov., the penny machine is located inside the gift shop of the haunted house. This is only open during hours of the haunted house. Tickets to the haunted house are not required to visit the gift shop, but you must wear a face mask. You enter through a large gate and the shop is on the right. Each penny is 50 cents plus the penny to be squished. These are the same designs as in the image. Once the haunted house time ends, the machine will eventually move back into the lobby of Escape the Netherworld which is located in the same building. Check the website for hours of operation after Nov.
Machine 1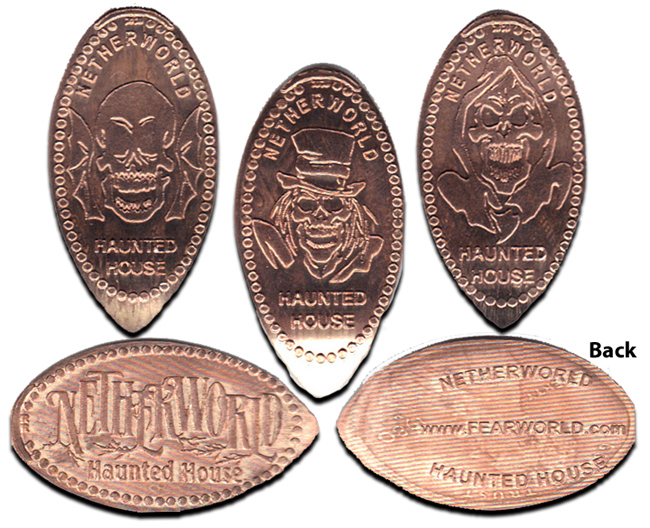 Comments
Updated Escape the Netherworld - smashman
Updated Escape the Netherworld - thegillion
BeTough added Escape the Netherworld to system.
Added
My Machines